I've been one of the lucky ones, able to live and work here in Northern California's Napa Valley. Since 1994, I've worked in all areas of the wine industry --from the vineyard to the sales room--of several small wineries, learning the business from all angles. Finally, in 2011, with the encouragement of many, support from my husband Ben, and lots of help from my "Sista's of D'Vine," we started picking grapes with the goal of making my own wine. My creative passion has found its home in winemaking. My inaugural release of Napa Valley Cabernet Sauvignon has been awarded a Double Gold among other medals, as has each vintage following, in both commercial and International competitions! I'm sure my parents, Tom and Peg Trotter from Philadelphia, had no idea that 1 of their 16 children would end up being a winemaker…just Trotter 1/16. I think I'm the favorite. ;-) Salud! Stephanie Trotter Zacharia ~ Trotter 1/16 Wines
Vineyards, Harvest Notes
I am committed to sourcing grapes from small, healthy and sustainably-farmed vineyards here in Napa Valley to produce Trotter 1/16's vineyard designated, varietal specific wines.
The vineyard harvested for the 2011 and 2012 vintages has 121 dry-farmed, Cabernet Sauvignon vines located on the David Fulton property in St. Helena. It was planted on established St. George rootstock in the late 1990s.
For 2013 and 2014, we harvested a gold mine of a vineyard in the Coombsville AVA of Napa proper. There are just 36 rows of this dry-farmed, organic and biodynamic vineyard called Oak Canyon Ranch, managed by the Daphne Amory. She is a viticulturist specializing in bio-dynamic farming.
In 2015, the yields were very low due to four years of drought. I was fortunate to pick three great vineyards: Oak Canyon Ranch, E & S Vineyard...(E & S, for Ed & Shirley!) and a private, un-named vineyard in St. Helena that we blended a little Cabernet Franc and Merlot from Oakville into to make Sam's Pick Cabernet sauvignon.
In 2016, 2017 & 2018, we picked only the Oak Canyon Ranch and E & S - now named Flying J's vineyards in Coombsville.
At each harvest and for each vineyard, we hand sort the grapes then pull jacks and "mog" (material other than grape) by hand after mechanically destemming.
All vintages are aged in a recipe of new and "once burned" Quintessence or American oak barrels for 28 to 33 months. "I want the vineyard to be the meat of my dish and the barrels are my spice rack." says Stephanie Trotter Zacharia
Once bottled and with proper cellaring, all Trotter 1/16 wines will develop beautifully for many years.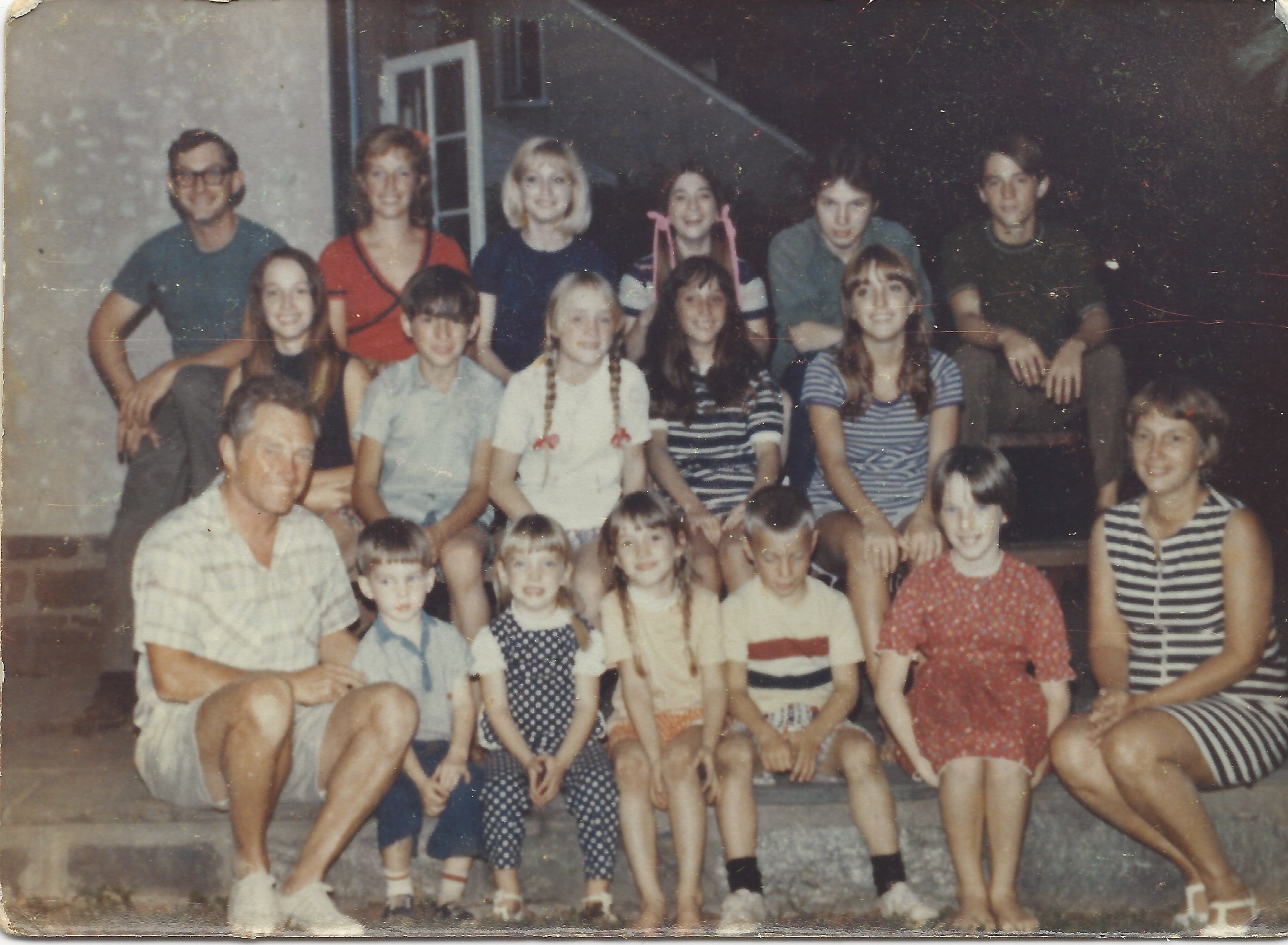 In Philadelphia, Pennsylvania, a soft pretzel baker, Tom Trotter (bottom row, left) along with wife Peg (bottom row, right) had sixteen (16!) children. 1/16th!

Stephanie, the only one making wine, is #15 of the 16! Can you spot her?