The Reviews Are In
In addition to the international acclaim, Trotter 1/16 wines has received many rave reviews from the most important judges: you, the wine lover!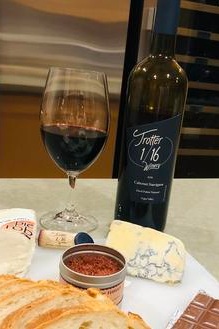 Jim P, Wine Lover offered this Jan 2019
The 2011 pairs with Jersey Blue Cheese amazingly - wow - I mean spectacular! Here are my notes: Eyes and nose: classic medium body with well defined fingers on wall of glass and minimal clear lip. Pepper is big on the nose with a subdued yet available earthiness and wild flowers....dare I say Lilac? On the pallet alcohol and tannins have become mellow but distinguishable . It is pepper for days mixed with cherries and a little oak up front. Mid pallet offers up sweet tobacco and leather with a lingering sweetness on the finish. Based on this tasting I'd say ~10 years left for storing. Next bottle will be opened in 2021.
"Finally had to open the bottle of your wine. OMG, you done yourself proud! One of the best Cabs I have ever tasted. Went great with my deep dish pizza last night....I also want to get a couple more bottles if you have any left."
Bill H. Wine Lover
"very nice inaugural wine Stephanie! Even paired nicely with homemade beef tacos! Tried it again the next morning and shows good spice, aeration in palate brings more spice on finish with a hint of eucalyptus character on nose and palate after another day open on counter- I put all wines I recommend through a rigorous tasting over multiple days because to me that's real life! Cheers!" Sarah Francis, Sarah Francis Wines
Winemaker dinners on the East coast with fabulous chefs!
Chef Victor O. had been wine tasting in both Napa & Sonoma Valleys for a week and sent an email regarding my 2012 Cabernet Sauvignon: "...was the best wine I had all week...... I am not lying. I was totally blown away!"
Welcome to the Liquid Art Club, Victor!
Friends in the Midwest have great taste in wine…
"...To my Cabernet loving friends - both 2011 and 2012 now available. Case of the '12s coming to Wheaton. The 2011 was a truly Bordeauxesque dream. Honestly one of the best 2011 Napa Cabs I've had. And, Stephanie is one of the finest folks in the Valley that I've had the pleasure of meeting. She poured several tastings for me at Casa Nuestra and even shared her tuna sandwich. Great person and great wine." David L.B, Wine Lover
"Stephanie Trotter-Zacharia, we opened a bottle of your 2011 Cabernet for Ji's birthday last night and it was spectacular!! Thank you so much for doing what you are doing and being who you are. We are honored to call you our friend! Miss you and the Valley and hope to see you soon!" Michael & Ji D, Wine Lovers in NY
Celebrations by the ocean!
"Kristen and I are down in Vero Beach, FL celebrating K's birthday.... Brought a bottle of your 2011 for the festivities! It was awesome, fruit is developing nicely - structure and balance are wonderful."